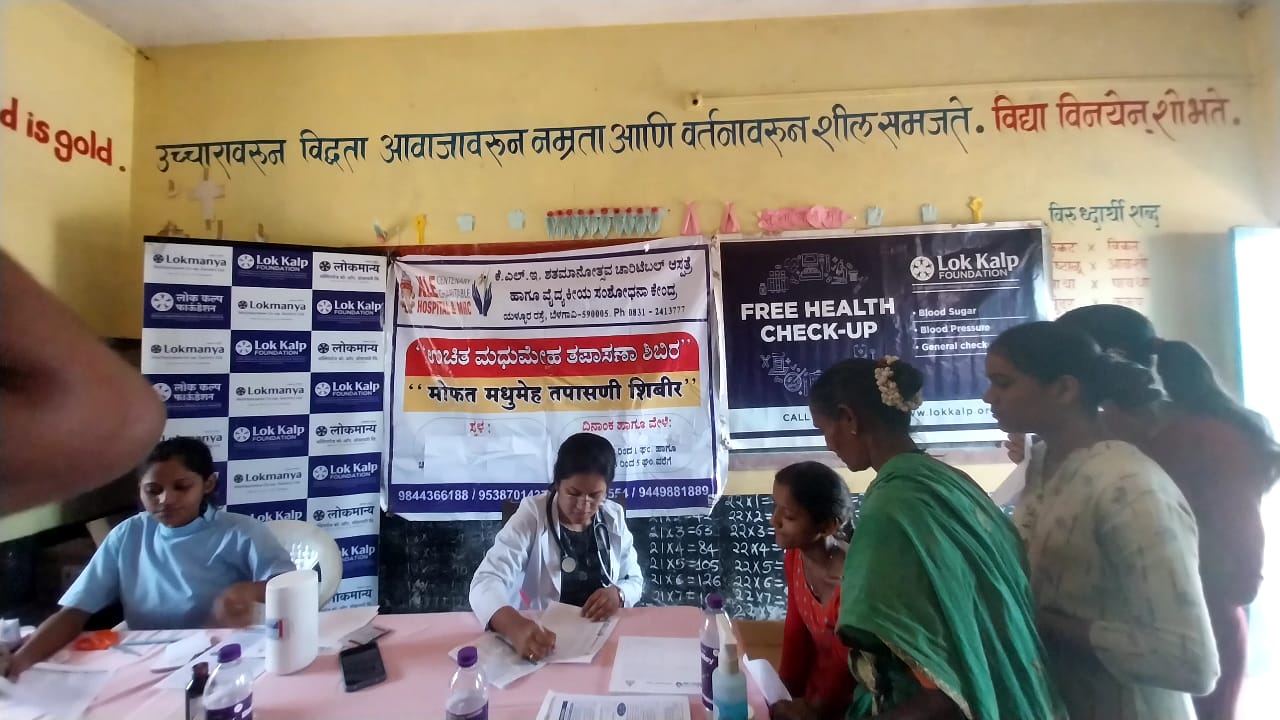 KLE Yellur conducted a general health camp at Huland Village, which aimed to provide healthcare services to the residents of the village. The camp was organized with the help of volunteers from the local community and healthcare professionals from KLE Yellur PR is as follow. "Lok Kalp Foundation is a CSR(Corporate Social Responsibility) initiative by Lokmanya Multipurpose Co-op Society, Founder and Chairman Shri. Kiran Thakur, Advisory Editor Tarun Bharat has adopted 32 villages around the Belgaum district, which is located in the thick forest of Jamboti and kankumbi surrounded areas. Lokkalp foundation and KLE Yellur general health camp offered a range of medical services, including free check-ups, consultations, and health screenings. The health professionals performed various diagnostic tests such as blood pressure, blood sugar, and BMI measurements. Patients were also given medical advice and counseling on maintaining a healthy lifestyle and preventive measures to avoid health issues. The Huland Village is around 53 kms from Belgaum and 10 kms from Kankumbi in thick jungle forest.
The health camp received a significant response from the local community, and many people came forward to avail of the services. The residents expressed their gratitude towards KLE Yellur and LokKalp Foundation volunteers for organizing the camp and providing them with free medical services. The villagers appreciated the efforts made by the organizers in bringing healthcare services to their doorstep, which otherwise would have been difficult for them to access.
The health camp not only provided medical services but also created awareness about the importance of preventive healthcare and hygiene practices. The healthcare professionals conducted informative sessions and distributed pamphlets to educate people about various health issues and their remedies.

In conclusion, the general health camp organized by KLE Yellur at Huland Village on 17/04/2023 was a success and around 70 peoples were present. It provided much-needed healthcare services to the residents of the village and created awareness about preventive healthcare and hygiene practices. The camp was a commendable initiative that showcased KLE Yellur's commitment to serving society and providing affordable healthcare services to underserved communities.

KLE Yellur team Dr. Aishwarya Chavan, Medical officer, nursing staff, and Mr. Santosh, PRO officer were present and Lok Kalp Foundation's volunteers MR. Santosh Kadam and Ms. Suhasini pedneker, and CSR(corporate social responsibility) official corporate staff Mr. Surajsingh Rajput, Snr Assisstant and Mr. Pritesh Potekar and many other village members were present for the camp.