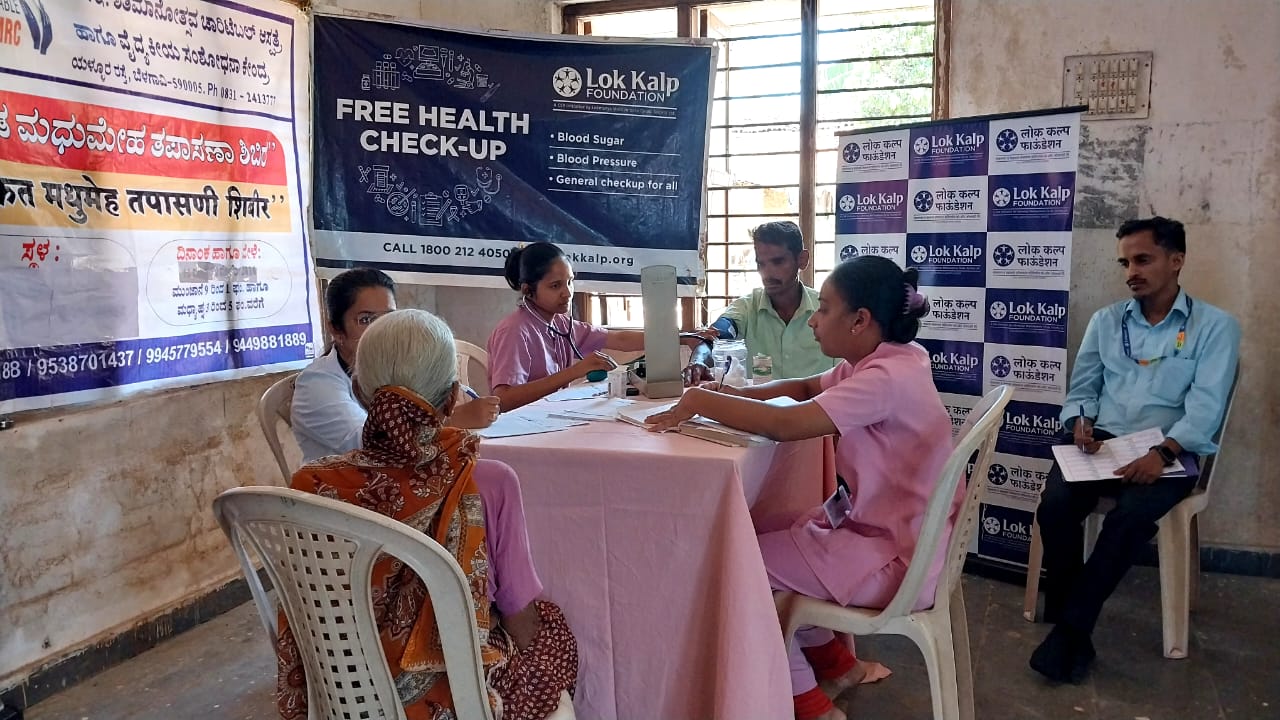 KLE Yellur General Health Camp: Bridging Healthcare Gaps in Nerase Village in Collaboration with Lok Kalp Foundation on May 17, 2023, villages 32 adopted by Shri. Kiran Thakur, Founder and Chairman Lokmanya Multipurpose Co-Op Society Ltd. 
Located approximately 15 kilometers from Khanapur village, the serene village of Nerase became the center of attention on May 17, 2023, as the KLE Yellur General Health Camp unfolded its compassionate services. Collaborating with the esteemed Lok Kalp Foundation, this initiative aimed to bridge the healthcare gaps prevalent in the region, catering to the medical needs of the villagers and empowering them with knowledge for a healthier future.

In rural areas like Nerase, access to adequate healthcare services is often a challenge due to various factors such as geographical remoteness, limited medical infrastructure, and financial constraints. Recognizing this disparity, KLE Yellur, a leading institution committed to social welfare, joined forces with the Lok Kalp Foundation to extend their support to the underprivileged communities in the region.

The General Health Camp, meticulously organized and executed, offered a comprehensive range of medical services to the villagers of Nerase like health checkup, RBS(random blood glucose), blood pressure, and given free medications as prescribed by doctor. The event drew a team of dedicated healthcare professionals, including doctors, nurses, and volunteers, who worked tirelessly to ensure the success of the camp. Their expertise and unwavering commitment to serving the community played a pivotal role in transforming lives.

The impact of the KLE Yellur General Health Camp on Nerase Village was profound. Over 50 to 60 villagers availed themselves of the services provided during the camp, benefiting from personalized medical attention and guidance. Many individuals, who had been silently battling health issues due to limited resources, found solace in the compassionate care they received at the camp.

The success of the KLE Yellur General Health Camp in Nerase Village is a beacon of hope for other communities grappling with similar healthcare challenges. It highlights the importance of collaborative efforts, corporate social responsibility, and the transformative impact they can have on vulnerable populations. Through their collective dedication.

KLE doctor Dr. Aishwarya Chavan, nursing staff, and Mr. Santosh PRO. Corporate social responsibility official staff Mr. Prasad Asukar, Mr. Pritesh Potekar, and volunteer Mr. Santosh Kadam and many village peoples were present for the camp and appreciated the same.