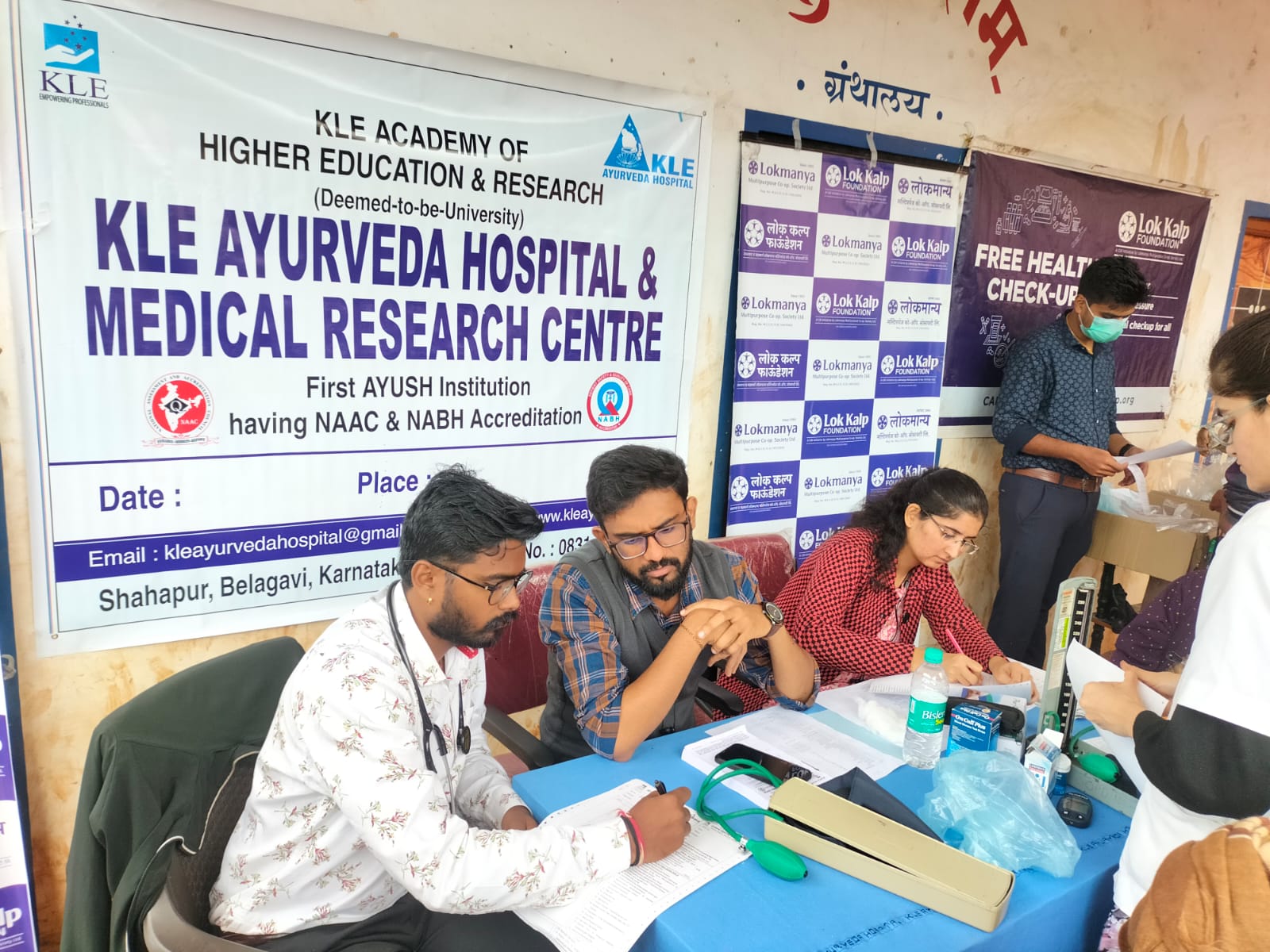 On July 21, 2023, the Lok Kalp Foundation, in collaboration with KLE Shahapur, undertook an inspiring initiative to bring holistic healthcare to remote forest areas. The organizations jointly organized a General Ayurvedic Health Camp in Golyali Village. The visionary efforts of Shri Kiran D. Thakur, Founder and Chairman of Lokmanya Multipurpose Co-op Society Ltd, played a pivotal role in adopting 32 villages. The camp witnessed an overwhelming response, with around 112 individuals attending and expressing their appreciation for this significant endeavor.
Bringing Ayurveda to Remote Forest Areas
Golyali Village in the remote forest areas had long been devoid of essential healthcare services. The lack of access to modern medical facilities posed significant challenges for the inhabitants. The Lok Kalp Foundation, known for its dedication to improving healthcare in underserved regions, recognized the need to address this disparity. Collaborating with KLE Shahapur, a renowned institution in the field of Ayurveda, they embarked on a mission to provide holistic healthcare through Ayurvedic principles.
Shri Kiran D Thakur, the visionary behind Lokmanya Multipurpose Co-op Society Ltd, played a crucial role in adopting these 32 villages, underscoring the commitment to uplift the lives of the underprivileged.
The General Ayurvedic Health Camp: A Transformative Experience
The General Ayurvedic Health Camp in Golyali Village served as a beacon of hope for the villagers in the remote forest areas. The camp brought together a team of expert Ayurvedic practitioners, dedicated to extending the benefits of Ayurveda to those in need.
The attendees were provided with comprehensive health assessments, personalized Ayurvedic consultations, tailor-made treatment plans, and given free ayurvedic medications to the patients. The camp offered a range of traditional Ayurvedic therapies, herbal remedies, and educational sessions on lifestyle modifications and proper nutrition.
Lok Kalp's Corporate Official person Mr. Surajsingh Rajput (Snr Assistant), Mr. Pritesh Potekar, volunteers Mr. Santosh Kadam, and Ms. Suhasini Pednekar, and were present. KLE Ayurvedic Belgaum doctors team Dr. Apeksha, Dr. Omkar, Dr. Shubham Lugade, Dr. Sanjeevani Nakade, Dr. Sudarshan Pujari and Mr. Shridhar K (PRO) were present and many other village people who supported to organized this camp and appreciated as same.