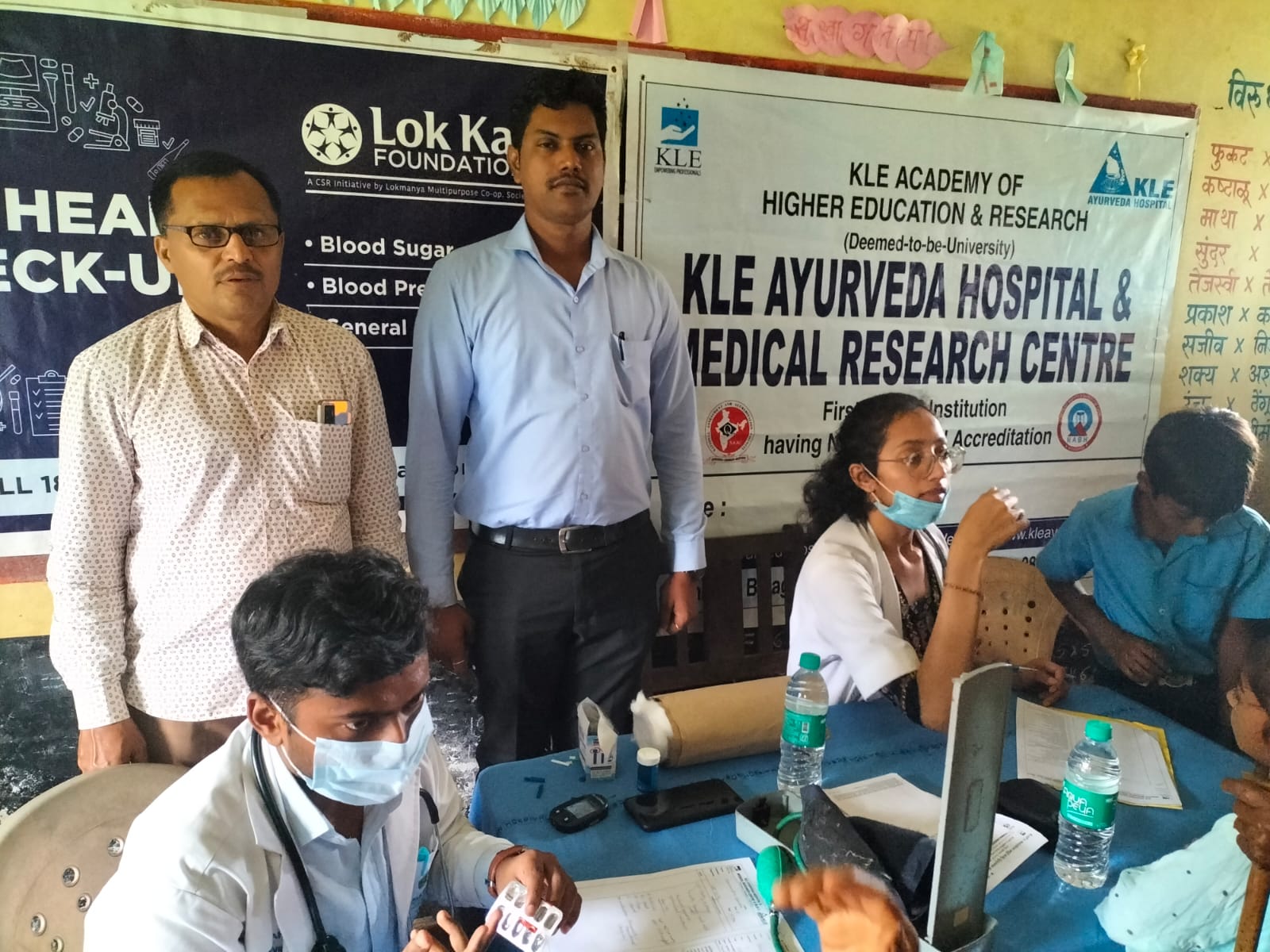 The Lokmanya Multipurpose Co-op. Society Ltd.'s decision to adopt 32 villages in Khanapur Taluka speaks volumes about their commitment to the welfare of the local communities. Shri Kiran D. Thakur's leadership has brought forth a transformative approach to corporate social responsibility, focusing on long-term sustainability and comprehensive growth.
On August 17, 2023, Lok Kalp Foundation took a significant leap forward with a collaborative effort between Lok Kalp Foundation and KLE Ayurvedic Belgaum. The venue was Hulund Village, where the team conducted a General Health Camp that left an indelible impact on the lives of the villagers.
The health camp's core objective was to provide accessible healthcare services to the villagers. Approximately 65 to 70 individuals were attended to, receiving critical health checks, including random blood glucose (RBS) and blood pressure (BP) measurements. This meticulous approach ensured that a comprehensive view of each individual's health status was obtained.
In alignment with the principles of Ayurveda, the camp also provided free Ayurvedic medicines to the participants. This not only offered immediate relief but also highlighted the efficacy of holistic healing practices. However, the impact went beyond medical consultations.
The villagers were given essential guidance on hygiene practices, empowering them to maintain a healthier way of life. The local villagers were quick to express their gratitude and appreciation for this thoughtful initiative. The collaborative effort between Lok Kalp Foundation and KLE Ayurvedic Belgaum not only provided vital medical support but also conveyed a message of care and concern that resonated deeply with the community.
KLE Ayurvedic Doctors team Dr. Sidhi P, Dr. Arshiya, Dr. Prinal Fernandes, Dr. Anjali sharma, Dr. Rudragouda patil, and Mr. Shridhar K, PRO officer were present, corporate offical staff Mr. Surajsingh Rajput, Snr Assisstant, and volunteers Mr. Santosh Kadam and Mr. Anant Gawade were present.