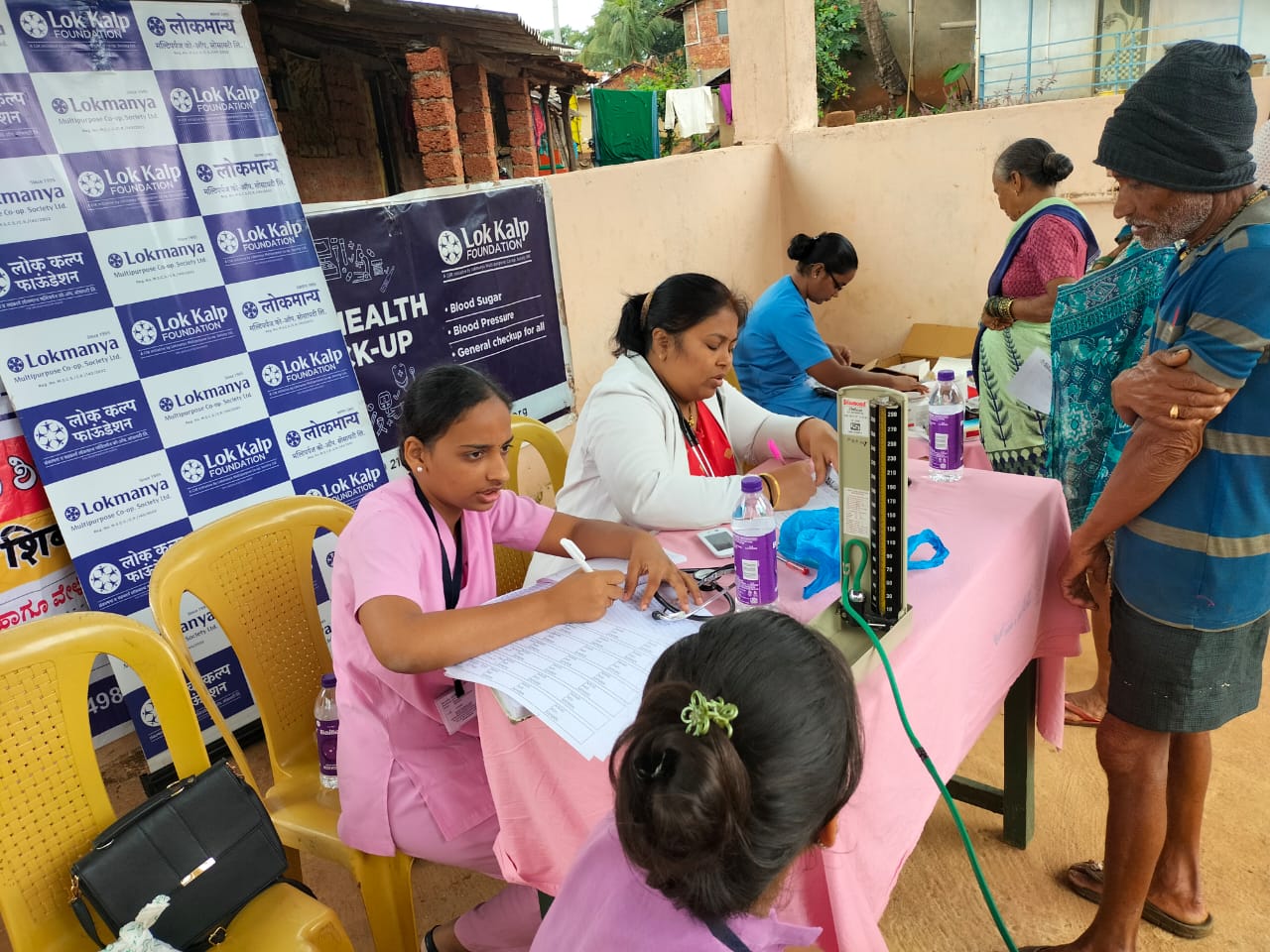 In a remarkable initiative to provide healthcare services to the remote forest areas of Khanapur Taluka, Lok Kalp Foundation joined hands with KLE Hospital Yellur for a general health checkup camp. The event took place in Kapoli village on June 23, 2023, an adopted village under the dedicated efforts of Shri Kiran D. Thakur, the founder and chairman of Lokmanya Multipurpose Co-op Society Ltd. The camp provided free medical consultations, medicines, and multivitamins to approximately 103 patients, making a significant impact on the healthcare landscape of the region.
Addressing Healthcare Challenges in Remote Areas:
Access to healthcare services in remote areas has always been a challenge, and residents of the forest regions in Khanapur Taluka faced similar difficulties. Recognizing this critical need, Shri Kiran D. Thakur and Lokmanya Multipurpose Co-op Society Ltd, CSR initiative adopted 32 villages and improve the overall health and well-being of its residents. Through the collaboration with KLE Hospital Yellur, this health checkup camp was organized to address the immediate healthcare requirements of the villagers.
Lok Kalp Foundation: Empowering Communities:
Lok Kalp Foundation, an organization dedicated to social welfare and community development, played a pivotal role in facilitating this collaboration. The foundation, under the guidance of Shri Kiran D. Thakur, aims to uplift underprivileged communities and provide them with essential resources and opportunities. By partnering with KLE Hospital Yellur, Lok Kalp Foundation ensured that the villagers of Kapoli received the necessary medical attention and assistance they urgently required.
Furthermore, the camp served as an opportunity for healthcare professionals to educate the villagers about preventive measures, proper hygiene practices, and lifestyle modifications to maintain good health. Such initiatives are crucial in empowering communities with knowledge and creating a sustainable impact on their overall well-being.
Lok Kalp's Corporate Official person Mr. Surajsingh Rajput, volunteers Mr. Santosh Kadam, Mr. Anant Gawade, and Mr. Parshuram Gawade(Driver) were present. KLE Hospital Yellur Doctors team Dr. Ashwini consultant, nursing staff, and Mr. Santosh, PRO were present. Mr. Sahadev Patil Gram Panchayat member and Mr. Ramesh Patil Gram Panchayat staff who were present and supported to organized this camp and appreciated as same.