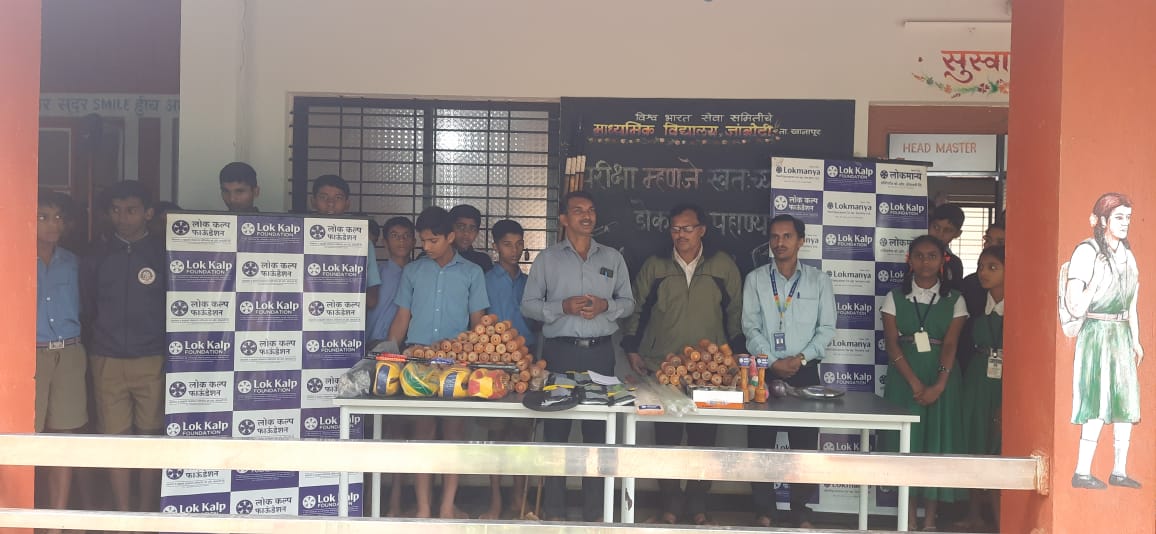 In a remarkable display of corporate social responsibility Founder and Chairman Shri Kiran D Thakur, the Lokmanya Multipurpose Co-Op Society Ltd.'s philanthropic arm, Lok Kalp Foundation, has taken a significant step towards empowering youth through sports kit. The foundation donated a comprehensive sports kit to Madhyamik Vidyalay Jamboti, situated in the Taluka Khanapur, District of Belgaum.
Recognizing the importance of holistic education and the role of sports in nurturing well-rounded individuals, Lok Kalp Foundation has been committed to supporting various educational initiatives. By focusing on sports, the foundation aims to promote physical fitness, team spirit, and overall character development among the young students at Madhyamik Vidyalay Jamboti.
The donation of the sports kit is a testament to Lok Kalp Foundation's dedication to the welfare of the community and its commitment to providing necessary resources for the betterment of youth. The kit includes essential sporting equipment such as Javelian 4, Shotput 2, Volleyball 2, Volleyball Net 1, Wooden dumbles 50 pairs, Jump ropes (skipping) 10, Disc 2, Cricket set, Throw ball 1, Lagori set, Football 1, badminton racquets, and other necessary items, ensuring that the students have access to a wide range of sports activities.
The significance of this initiative goes beyond the mere provision of sports equipment. It signifies the foundation's belief in the power of sports to inspire, motivate, and instill valuable life skills in the students. Through participation in sports, the students will learn essential qualities like discipline, teamwork, perseverance, and leadership, which will undoubtedly contribute to their personal and academic growth.
Madhyamik Vidyalay Jamboti, a well-known educational institution in the Khanapur Taluka Belgaum District, has a strong reputation for academic excellence. With the support of Lok Kalp Foundation, the school can now offer an enhanced sports program that will enrich the lives of its students. The sports kit will enable the school to organize various inter-school competitions, coaching camps, and sports events, fostering a culture of healthy competition and camaraderie.
This remarkable CSR initiative by Lokmanya Multipurpose Co-Op Society Ltd.'s Lok Kalp Foundation serves as a shining example of how businesses can play an integral role in social transformation. By recognizing the importance of sports in shaping young minds, the foundation has taken a significant step towards nurturing the potential of the students at Madhyamik Vidyalay Jamboti.
Lok Kalp's Corporate Official person Mr. Prasad Asukar, volunteers Mr. Santosh Kadam and Ms. Suhasini Pednekar, and Mr. Ramesh Goundadkar (Driver) were present. Madhyamik Vidyalay Jamboti School Principle Mr. Mahesh Sadekar and other teaching staff were present for the camp and appreciated and thankful for Lok Kalp Foundation.